Junk food consumption is on the rise as it is cheap, convenient and can be very addictive.
Around every corner, there seems to be another fast-food restaurant and there's a whole section in the supermarket dedicated to these products.
Hopefully, after reading this article you'll realize that you do not need to be tempted by them anymore.
Often all it takes is a period of time, normally about a month, where you do not eat any junk
food and then your cravings start to diminish.
Slowly, over time, these cravings eventually disappear leaving you wondering why you were ever hooked on them in the first place!
Homemade Snack Packs

Creating some healthy snack packs is an easy way to save yourself from binging on junk food when you are hungry.
The reason why junk food is so heavily consumed is due to the fact that it's readily available – you can eat it then and there without any fuss. That's why a little preparation can go a long way.
All you need to make some snack packs are zip lock bags and any ingredients. You may be thinking that this is the same as trail mix but it's not. While similar, trail mix is very easy to overeat as it contains a lot of dried fruit, granola, nuts and seeds.
None of these things are filling and while alone they are not bad for you, they are very energy dense and so a small bag of trail mix can equal plenty of calories.
Instead, you want to focus on whole foods that are high in protein, fiber or water. These elements make it hard for you to eat a lot of them and normally come paired with highly nutritious foods.
I suggest making two types of bags; savory and sweet. Then, whatever mood you are in can be sorted by simply reaching into your cupboard or fridge where the bags are stored.
For the sweet bags think of:
Apple slices

Satsuma wedges

Coconut Chunks

Blueberries

Strawberries
As well as anything else you can think of that is highly nutritious but will leave you full and satisfied afterward.
I would also suggest to store them with a couple of cinnamon sticks to add some nice flavor and spice.
Biltong/Jerky

Carrot Sticks

Cucumber Slices

Peppers

Cauliflower

Broccoli
Keep a jar of salsa handy as well so that you have a low calorie dip to enjoy these foods with.
You can also try making some kale/courgette/butternut squash crisps by thinly slicing these vegetables, covering in a little oil with some spices and then baking them on a high heat until they become crisp.
All of this can also be done with pitta bread or tortilla wraps cut into triangle shapes. This is an easy way to make very tasty snacks without compromising your health.
There are also many varieties of low-fat crisps on the market such as pop-chips. These crisps are popped opposed to fried which means they have 50% and sometimes even more than 50% less fat.
They have many different flavors and varieties to choose from so keep an eye the next time you're in the supermarket.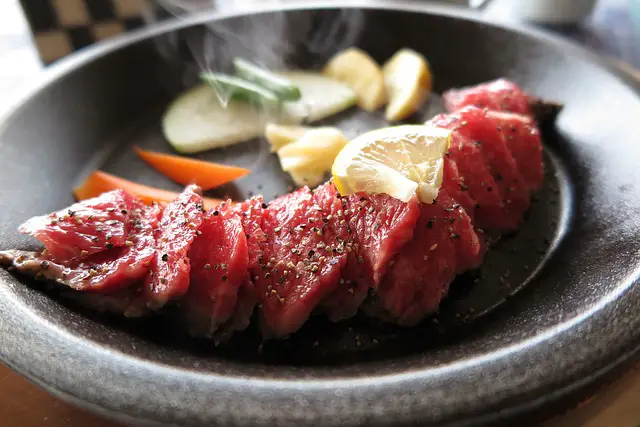 Lean Meats
As I mentioned before, protein is very filling and makes it hard to overeat. Lean meats are a great way to increase your protein intake while providing you with a filling snack, too.
It's important to choose the least-processed varieties while still keeping to something convenient and simple.
High quality beef jerky and biltong is a good idea. Look on the back for the ingredients to check that there's no funny chemicals or additives being added. It should simply be beef, spices, sugar and vinegar.
When it comes to ready cooked deli meats, beef tends to be the least processed out of all the varieties. Ham, chicken and turkey are often filled with water and special chemicals which are not necessary.
Aim for the options that just contain spices, salt and maybe a little bit of sugar. As well as this you can always cook up some extra meat when you make your dinner.
That way you'll have some ready for the next day that you can add to breakfast or lunch to make it more filling.
Vegetable/Fruit Swaps

Replacing junk food with vegetables and fruit doesn't have to be as straight forward and boring as you may think.
Have you ever thought about swapping burger buns for slices of potato? The potato is roughly the same calories if not less than the bun but it's more filling and also provides a nice crunch. Keep the skin on so that you can handle it easily.
You can also make your own chips in the oven very easily from foods that aren't potato. Using swede adds a lovely sweet taste to the chips the same as carrots and butternut squash.
You can also use parsnips and celeriac to give the chips a more nutty taste. As well as this, pasta can be easily substituted for courgette or carrot.
All you have to do is cut peel or spiralize the vegetable into long thin strips then quickly blanch them in water for a minute until they're slightly soft.
Rice can be substituted for a lower calorie option in the form of cauliflower. Blitz a head of cauliflower in a blender until they're in small, rice-sized chunks and then boil for just over a minute.
Learning how to cook is probably the biggest way that you can avoid eating junk food. Learning which combinations of foods go together with various herbs and spices is a priceless skill to acquire.
I suggest purchasing one or two cookbooks that you like the look of and then picking a couple of recipes to complete each week. You don't need to start cooking every single night but taking that first step will push you to find what you enjoy and increase the number of times that you're in the kitchen each week.
You can even start to learn how to cook healthy treats like cookies, muffins and cakes. There are many recipes online that use nutrient-dense ingredients so you can still enjoy these foods without them affecting your health.
Items such as burgers, pizzas and kebabs do not have to be unhealthy. There are many ways that you can make an alternative very quickly and easily that still tastes good. Using leaner cuts of beef for example in your burger can cut a large proportion of calories from the meal.
Using tortilla wraps instead of dough for homemade pizza's or reducing the amount of oil that you use when making a curry are also good examples.
Find a few dishes that you enjoy and swap some things about to reduce the total amount of energy in the meal.

Sugar-Free Jelly
Sugar-free jelly is a very low calorie substitute for a common dessert favorite. Jelly is actually very filling as it contains a large amount of water when you're making it. If you purchase the sugar-free variety it means that the taste is exactly the same yet you don't get any of the sugar.
This means that you can still have a very satiating pudding or snack. However, be wary of other 'sugar free' or 'fat free' varieties of food as there's normally a long list of other ingredients that they add in to replace the whatever they took out and make the products more palatable.
Yogurts are an example of this where they fat-free varieties are often full of sugar to improve the taste. It's always worth reading the ingredients to make sure you know what you are paying for. Another simple swap you can make is oatcakes for biscuits.
Oatcakes provide the same crunch and texture as biscuits just without all of the high calorie ingredients. Have them with some sliced banana, ham or smoked salmon to make them more exciting.
Low-Calorie Beverages
Consuming fizzy and sugar-laden drinks is a quick way to make the calories add up without giving your body any vitamins and minerals.
Drinks are very easy to over consume as it takes a long time before your body realizes that has enough energy.
The first step towards eliminating these from your diet is to switch to the sugar-free, zero or low calorie options. This means that you've still got the taste of the drink without the high amount of calories that's in them.
While the ingredients within these low-calorie alternatives are not the best, this is just the first step. Once you've taken out all of the normal versions of the fizzy drinks, then it is time to start swapping to flavored water.
Add a drop of lemon, lime or orange juice to make them taste better. You may also want to think about switching to the carbonated water as this makes it feel like you are having a more exciting drink.
Conclusion
As you can see there are many alternatives that you can make instead of binging on junk food. All it requires is a little effort and patience. Before you know it healthy eating will become easy and mindless…
Further reading: What is pH of Coconut Water?
---
Researches and references
http://www.webmd.com/diet/13-ways-to-fight-sugar-cravings
https://en.wikipedia.org/wiki/Popchips
"http://thepaleodiet.com/healthy-lean-meats/
"http://americanpregnancy.org/is-it-safe/deli-meats/
https://en.wikipedia.org/?title=Potato
"http://authoritynutrition.com/11-most-nutrient-dense-foods-on-the-planet/
http://www.pickyourown.org/jamnosugar.htm
https://en.wikipedia.org/wiki/Oatcake
---
Leave Feedback: Was this article helpful?